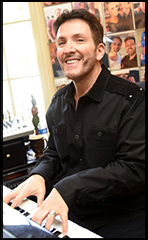 ERIC VETRO is best known as a voice teacher, but he is also an accomplished pianist, producer and songwriter. His prominence as a voice teacher and vocal coach has been featured on Oprah Winfrey's OWN NETWORK's documentary of Shania Twain, A&E'S THE STAR TREATMENT as well as ACCESS HOLLYWOOD and ENTERTAINMENT TONIGHT along with features in BACKSTAGE magazine and THE LA TIMES.
As a pianist, he has accompanied singers such as Queen Latifah (singing her song from the feature film CHICAGO at the pre-Golden Globe Vanity Fair party) and the Tony Award Winning singer/actress Kristin Chenoweth.
Eric conceived, co-produced (and wrote two songs) for the album "Unexpected Dreams" released on Rhino Records. His students who sang on the album included: Scarlett Johansson, Teri Hatcher, Jennifer Garner, John Stamos, Lucy Lawless, Julia Louis-Dreyfus, Taraji P. Henson, Eric McCormack and Ewan McGregor. Each donated their royalties to the charity Music Matters.
Eric received his Bachelors and Masters degrees in music at New York University (also taking classes at Julliard and The New York School of Music) and currently resides in Toluca Lake, California where he's hosted the ASCAP SONGWRITER LOVEFEST at his home for three years in a row, as well as benefit concerts for THE FESTIVAL FOR NEW AMERICAN MUSICALS, also for three years in a row.
---